Time to bust out the hot apple cider, everything pumpkin flavored, all things plaid, and as many creepy decorations as you can muster because it's officially spooky season! I cannot stress enough how much I love Halloween; it's the time of year when being a little weird is not only celebrated but encouraged! If you're anything like me, Halloween celebrations last the entire month and are not restricted to just October 31st. ...Who am I kidding? I'd celebrate Halloween all year long if it were socially acceptable.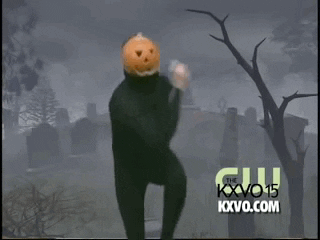 And with Halloween comes slasher films, creepy flicks, and cheesy movie marathons that even the littlest ghouls and goblins can enjoy. While Hollywood definitely has some great Halloween-themed offerings, sometimes a story can't be contained within a single movie. That's were silver-screen gems can extend the seasonal spirit for those of us who like to celebrate a little longer. From the campy to the chilling, I've compiled a—clearly unbiased and comprehensive—list of thirteen of the best TV series to binge-watch this month to help you get into the Halloween spirit. Happy Haunting!
Billed as a show in which "ordinary people find themselves in extraordinarily astounding situations, which they each try to solve in a remarkable manner," creator and host Rod Serling's iconic series is one of the most revered in television. The Twilight Zone is the model for every anthology series thereafter.
Serling wrote the majority of the scripts and produced episodes written by Richard Matheson and Charles Beaumont. The Twilight Zone also featured soon-to-be-famous actors like Robert Redford, William Shatner, Burt Reynolds, Robert Duvall, Dennis Hopper, Carol Burnett, James Coburn, Charles Bronson, Lee Marvin, Peter Falk and Bill Mumy, as well as such established stars like Buster Keaton, Art Carney, Mickey Rooney, Ida Lupino and John Carradine.
DID YOU KNOW? Rod Serling invited viewers to submit a script. He was flooded with over fourteen-thousand scripts, and he actually got around to reading five hundred of them. However, only two were any good, and he couldn't use them, because they didn't fit the format of the show.
WHERE TO WATCH: Amazon Prime Video | CBS | Hulu | Netflix | YouTube
BONE-US: In 2019, CBS All Access debuted an updated The Twilight Zone series created and hosted by Jordan Peele.
Sabrina, the Teenage Witch (1996-2003)
On her sixteenth birthday, Sabrina Spellman learns that she is a witch; in fact, her whole family on her father's side are witches. Sabrina lives with her two aunts Hilda and Zelda, who teach her magic and prepare her to receive her witch's license. All the while, she has to keep her secret from her boyfriend, friends, arch-nemesis, and the ever-suspicious Principal Willard Kraft.
STARRING: Melissa Joan Hart, Nick Bakay, Caroline Rhea, Beth Broderick, Nate Richert, Jenna Leigh Green, and Martin Mull
DID YOU KNOW? For the role of Salem, there were always at least seven real cats on set. There were also two animatronic cats for up-close dialogue shots and two stuffed animal cats to use for scenes that were inappropriate for the real cats.
WHERE TO WATCH: Amazon Prime Video | CBS | Hulu | YouTube
BONE-US: Netflix's Chilling Adventures of Sabrina reimagines the origin and adventures of Sabrina, the Teenage Witch as a dark coming-of-age story that traffics in horror, the occult and, of course, witchcraft. Tonally in the vein of Rosemary's Baby and The Exorcist, this adaptation finds Sabrina Spellman wrestling to reconcile her dual nature—half-witch, half-mortal—while standing against the evil forces that threaten her, her family, and the daylight world humans inhabit.
Buffy the Vampire Slayer (1997-2003)
Sarah Michelle Gellar takes on the role of Buffy Summers in this TV adaptation of Buffy the Vampire Slayer, based on the 1992 film starring Kristy Swanson. Buffy is a Slayer, one in a long line of young women chosen for a specific mission: to seek out and destroy vampires, demons, and other forces of darkness. Unlike her predecessors, Buffy establishes a group of supportive friends who aids her in her battles with evil, including Willow, Xander, and Cordelia. Her encounters with evil are frequent, since Sunnydale, where Buffy and her friends live, sits atop a gateway to the realm of the demons.
STARRING: Sarah Michelle Gellar, Nicholas Brendon, Alyson Hannigan, Anthony Head, James Marsters, Emma Caulfield Ford, Michelle Trachtenberg, and David Boreanaz
DID YOU KNOW? Series creator Joss Whedon has said that the idea for Buffy came from watching horror movies that featured a helpless young blonde, who would almost always die first. He felt she needed a better image.
WHERE TO WATCH: Amazon Prime Video | Hulu | YouTube
BONE-US: Angel (1999-2004) is a spinoff of Buffy the Vampire Slayer. Angel, played by David Boreanaz, is a vampire cursed with a soul who moves to Los Angeles to aid people with supernatural-related problems while searching for his own redemption.
The three Halliwell sisters Piper, Phoebe, and Prue, discover that they are descendants of a line of female witches. Luckily for the world, they're of the good variety. Banding together in their ancestral home in San Francisco, they work together to fight evil, with each having a specific special power. Although outwardly, they are average women, with jobs, relationships, and friends, they are also powerful witches, but when they work together, their powers are enhanced. As "The Charmed Ones," their destiny is to protect innocents from evil.
STARRING: Holly Marie Combs, Alyssa Milano, Shannen Doherty, Brian Krause, Rose McGowan, and Dorian Gregory
DID YOU KNOW? The house used for the exterior shots of Halliwell Manor is located at 1329 Carroll Avenue, Los Angeles, California. The same house was used for the exterior of the tall woman's house in Deuce Bigalow: Male Gigolo (1999) and as Hank Pym's (Michael Douglas) home in Ant-Man (2015).
WHERE TO WATCH: Amazon Prime Video | Netflix | YouTube
BONE-US: In 2018, The CW approved a Charmed reboot, which centers on three sisters in a college town who discover they are witches after their mother's death. Between vanquishing supernatural demons, tearing down the patriarchy, and maintaining familial bonds, a witch's work is never done.
The only reality show on this list, Ghost Hunters is the OG paranormal investigative show. A pair of plumbers moonlight as ghostbusters for clients who report paranormal phenomena. Jason Hawes and Grant Wilson founded TAPS, The Atlantic Paranormal Society, in 1990 as an extension of their interest in the paranormal, and since that time they have made it their life's work to help people across the country who feel they have been affected by seemingly unexplained disturbances. While the original show ran from 2004-2016, the show was rebooted in the summer of 2019.
STARRING: Jason Hawes, Grant Wilson, Steve Gonsalves, and Dave Tango
DID YOU KNOW? Rock star Meat Loaf was such as a massive fan of the original series, he personally wrote into the show to ask to guest star on the show. He went on to appear in two episodes, "Bat Out of Hell" (2009) and "Sloss Furnace" (2010).
WHERE TO WATCH: AETV | Amazon Prime Video | YouTube
BONE-US: In 2008, SYFY launched a Ghost Hunters spinoff, Ghost Hunters International, which followed the same format as the original series but in international locations.
This haunting series follows the thrilling yet terrifying journeys of Sam and Dean Winchester, two brothers who face an increasingly sinister landscape as they hunt monsters. After losing their mother to a supernatural force, the brothers were raised by their father as soldiers who track mysterious and demonic creatures. Violent memories and relationship-threatening secrets add additional burdens on Sam and Dean as they investigate all things that go bump in the night. As old tricks and tools are rendered useless, and friends betray them, the brothers must rely on each other as they encounter new enemies.
STARRING: Jared Padalecki, Jensen Ackles, Misha Collins, Mark Sheppard, Jim Beaver, and Mark Pellegrino
DID YOU KNOW? Originally, actor Jensen Ackles auditioned for the role of Sam Winchester. When Jared Padalecki came in and read for Sam, a slight re-casting was done. Producers called Jensen and asked if he'd rather play the role of Dean, saying he was the "Han Solo character of the duo, and what kid didn't grow up wanting to be Han Solo?"
WHERE TO WATCH: Amazon Prime Video | The CW | Netflix | YouTube
Small-town Louisiana waitress Sookie Stackhouse already is viewed as an oddball by her friends and neighbors, since she can read the minds of those around her. She doesn't exactly help her reputation, though, when she falls for Bill Compton, a 173-year-old vampire who has "come out of the coffin," along with many of his undead comrades now that synthetic blood has made it possible for vampires to survive without preying on humans. Still, the conservative locals aren't wild about mortal-vampire liaisons, especially Sookie's boss, Sam Merlotte, who carries a torch for her. Six Feet Under creator Alan Ball is behind this series adaptation of the best-selling novels by Charlaine Harris.
STARRING: Anna Paquin, Stephen Moyer, Alexander Skarsgård, Sam Trammell, Ryan Kwanten, Chris Bauer, Nelsan Ellis, and Carrie Preston
DID YOU KNOW? The name of the fictional northern Louisiana town, Bon Temps, means "good times" in French, and is a nod to the Cajun expression, "Laissez les bon temps rouler!" ("Let the good times roll!")
WHERE TO WATCH: Amazon Prime Video | HBO Now | YouTube
Based on the comic book series written by Robert Kirkman, this gritty drama portrays life in the months and years that follow a zombie apocalypse. Groups of survivors travel in search of safety and security, constantly on the move in search of a secure home. But the pressure each day to stay alive sends many in the group to the deepest depths of human cruelty, and they soon discover that the overwhelming fear of the survivors can be more deadly than the zombies walking among them. At times, the interpersonal conflicts present a greater threat to their continuing survival than the walkers that roam the country.
STARRING: Norman Reedus, Melissa McBride, Andrew Lincoln, Danai Gurira, Lauren Cohan, and Chandler Riggs
DID YOU KNOW? There are two zombies in the first episode of the show that are the same actors and make-ups as two of the zombies used in the 2009 film Zombieland.
WHERE TO WATCH: Amazon Prime Video | AMC | Netflix | YouTube
BONE-US: A prequel to The Walking Dead, Fear the Walking Dead is set in Los Angeles and follows two families who must band together to survive the undead apocalypse.
American Horror Story (2011- )
American Horror Story is an anthology horror series centering on different characters and locations, including a house with a murderous past, an insane asylum, a witch coven, a freak show, a haunted hotel, a possessed farmhouse, a cult, the apocalypse, and, in the most recent season, a slasher summer camp.
STARRING: Evan Peters, Sarah Paulson, Denis O'Hare, Kathy Bates, Jessica Lange, Frances Conroy, Lily Rabe, Angela Bassett, Emma Roberts, and Cheyenne Jackson
DID YOU KNOW? The season one house is a real location in Los Angeles known as the Rosenheim Mansion. It was built in 1908 by architect Alfred Rosenheim as his personal residence; Rosenheim was one of LA's most influential architects during the early 1900s. The house scenes in the pilot episode of American Horror Story were filmed on location at the Rosenheim Mansion, and then some of the house's interiors were replicated on a set. The house was also used for a Halloween-themed episode of Buffy the Vampire Slayer.
WHERE TO WATCH: Amazon Prime Video | Hulu | Netflix | YouTube
Many people are familiar with classic literary characters like Dr. Frankenstein and Dorian Gray. Penny Dreadful brings those and other characters into a new light by exploring their origin stories in this psychological thriller that takes place in the dark corners of Victorian London. Sir Malcolm is an explorer who has lost his daughter to the city's creatures, and he will do whatever is needed to get her back and to right past wrongs. His accomplice, seductive clairvoyant Vanessa Ives, recruits charming American Ethan Chandler to help locate Sir Malcolm's daughter and slay some monsters.
STARRING: Josh Hartnett, Timothy Dalton, Eva Green, Reeve Carney, Rory Kinnear, Billie Piper, and Harry Treadaway
DID YOU KNOW? "Penny Dreadful" is an old term used during the nineteenth century to refer to cheap popular serial literature. It means a story published in weekly parts, with the cost of one (old) penny. The main plot of these stories was typically sensational, focusing on the adventures of detectives, criminals, or supernatural entities.
WHERE TO WATCH: Amazon Prime Video | Netflix | Showtime | YouTube
Based on characters created by Neil Gaiman, Sam Kieth, and Mike Dringenberg, this series follows Lucifer, the original fallen angel, who has become dissatisfied with his life in hell. After abandoning his throne and retiring to Los Angeles, Lucifer indulges in his favorite things (women, wine, and song)—until a murder takes place outside of his upscale nightclub. For the first time in billions of years, the death awakens something unfamiliar in Lucifer's soul that is eerily similar to compassion and sympathy. Lucifer is faced with another surprise when he meets an intriguing homicide detective named Chloe, who appears to possess an inherent goodness—unlike the worst of humanity, to which he is accustomed. Suddenly, Lucifer starts to wonder if there is hope for his soul.
STARRING: Tom Ellis, Lauren German, Kevin Alejandro, D.B. Woodside, Lesley-Ann Brandt, Scarlett Estevez, and Rachael Harris
DID YOU KNOW? According to Tom Ellis, who plays Lucifer, the premise of the current show was born out of the pilot. Originally the series was going to be about Lucifer making deals with desperate/despicable people to collect favors from them on a later date. However, after seeing how well the series worked as a police procedural and the potential stories that could come from that, the series was revamped after the pilot.
WHERE TO WATCH: Amazon Prime Video | Netflix | YouTube
Angela Rance believes something is very wrong in her home. Plagued by increasingly frightening nightmares, she isn't the only one in her family suffering: her husband Henry is slowly losing his mind, while their older daughter spends all of her time locked in her room, and the younger one believes she hears strange noises coming from inside the walls. Desperate, she turns to Father Tomas Ortega—the progressive leader of their suburban Chicago parish—setting him on a collision course with old school Vatican soldier Father Marcus Brennan, as all their fates become entangled in a battle against an ancient force of evil.
STARRING: Alfonso Herrera, Ben Daniels, Kurt Egyiawan, Geena Davis, and Alan Ruck
DID YOU KNOW? Angela Rance, Geena Davis' character, is an anagram for "A clean Regan." Regan MacNeil was the possessed girl in the original 1973 film, on which the series is based on.
WHERE TO WATCH: Amazon Prime Video | FOX | Hulu | YouTube
This thrilling Netflix original drama follows Joyce Byers, who lives in a small Indiana town in 1983—inspired by a time when tales of science fiction captivated audiences. When Joyce's 12-year-old son, Will, goes missing, she launches a terrifying investigation into his disappearance with local authorities. Will's friends Mike, Lucas, and Dustin start their own search for their friend, especially after finding a girl named Eleven in the same spot where Will disappeared. As they all search for answers, they unravel a series of extraordinary mysteries involving secret government experiments, unnerving supernatural forces, and how a very unusual little girl links them all.
STARRING: Winona Ryder, David Harbour, Finn Wolfhard, Millie Bobby Brown, Caleb McLaughlin, and Gaten Matarazzo
DID YOU KNOW? Eleven's outfit of the pink dress and blonde wig are similar to—and possibly a nod to—E.T.'s disguise in the 1982 movie E.T. the Extra-Terrestrial.
WHERE TO WATCH: Netflix