You better watch out, you better not cry, you better not pout I'm telling you why: Santa Claus is coming to town! It feels as though Halloween and Thanksgiving weren't so long ago, but now it's time to trim the tree and hang the stockings with care, don some ugly sweaters, make fudge, wrap gifts, sing carols—you get the idea. It's Christmas!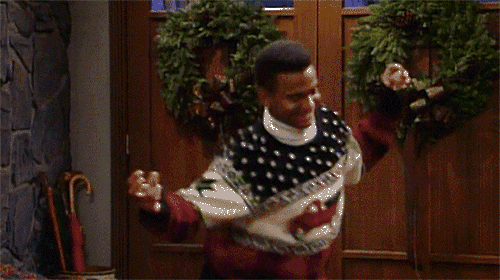 Although, I get it, not everyone is overjoyed with the thought of Yule Tidings (I'm currently listening to Frank Sinatra's version of "Jingle Bells" as I write this). If you're feeling a little Grinch-y this season, take a gander at this list of Christmas flicks. Whether you're into the classics, the heart-warming, or the kid-friendly nostalgic, this clearly unbiased and comprehensive list of Christmas-themed movies are guaranteed to help get you into the holly jolly mood and stay off of Santa's naughty list. There's even a few curveballs for those of you who still can't stand the cheesiness of the Whos down in Whoville.
Wishing you all a safe and happy holidays to you and yours.
DIRECTOR: Frank Capra
STARRING: James Stewart, Donna Reed, Henry Travers, and Lionel Barrymore
It's a Wonderful Life is one of the oldest Christmas films Hollywood has ever produced—and one of James Stewart's best performances—and belongs on any Christmas movie list.
It's a Wonderful Life features George Bailey, a man who has so many problems he is thinking about ending it all—and it's Christmas! As the angels discuss George, we see his life in flashback. As George is about to jump from a bridge, he ends up rescuing his guardian angel, Clarence, who then shows George what his town would have looked like if it hadn't been for all his good deeds over the years.
DID YOU KNOW? Films made before It's a Wonderful Life used cornflakes painted white to simulate falling snow, but because the cornflakes were so loud, dialogue had to be dubbed in post. Director Frank Capra wanted to record the sound live, so a new snow effect was developed specifically for the the film using "foamite," soap, and water. About 6,000 gallons of this mixture was pumped at high pressure through a wind machine to create the silent falling snow throughout the entire film. This technique was so successful, the RKO Effects Department received a Class III Scientific or Technical Award from the Motion Picture Academy for the development of the new film snow.
WHERE TO WATCH: Amazon Prime | Youtube
DIRECTOR: George Seaton
STARRING: Edmund Gwenn, Maureen O'Hara, John Payne, and Natalie Wood
As a 90s kid, I grew up on the 1994 remake starring Richard Attenborough, Elizabeth Perkins, Dylan McDermott, and Mara Wilson, but there's something about the original film that is so endearing.
In this Christmas classic, an old man going by the name of Kris Kringle (Gwenn) fills in for an intoxicated Santa in Macy's annual Thanksgiving Day parade. Kringle proves to be such a hit that he is soon appearing regularly at the chain's main store in midtown Manhattan. When Kringle surprises customers and employees alike by claiming that he really is Santa Claus, it leads to a court case to determine his mental health and, more importantly, his authenticity.
DID YOU KNOW? Unbeknownst to most parade watchers, Edmund Gwenn played Santa Claus in the actual Macy's Thanksgiving Day Parade held November 28, 1946. He fulfilled the duties of most parade Santas, including addressing the crowd from the marquee of Macy's after the parade was over. He was introduced to the crowd by Philip Tonge (who played Mr. Shellhammer in the movie) and later unveiled the mechanical Christmas display windows to the accompaniment of Tchaikovsky's "Nutcracker Suite." This gesture symbolized the opening of the Christmas shopping season at the department store
WHERE TO WATCH: Amazon Prime | YouTube
DIRECTOR: Michael Curtiz
STARRING: Bing Crosby, Danny Kaye, Rosemary Clooney, Vera-Ellen, Dean Jagger, and Mary Wickes
This musical comedy is a Christmas classic, and is also responsible for the ear-worm "White Christmas" getting stuck in your head every season.
Singers Bob Wallace (Crosby) and Phil Davis (Kaye) join sister act Betty (Clooney) and Judy Haynes (Vera-Ellen) to perform a Christmas show in rural Vermont. There, they run into Gen. Waverly ( Jagger), the boys' commander in World War II, who, they learn, is having financial difficulties; his quaint country inn is failing. So what's the foursome to do but plan a yuletide miracle: a fun-filled musical extravaganza that's sure to put Waverly and his business in the black!
DID YOU KNOW? According to Rosemary Clooney, Bing Crosby and Danny Kaye's "Sisters" performance was not originally in the script. They were clowning around on the set, and director Michael Curtiz thought it was so funny that he decided to film it. In the scene, Crosby's laughs are genuine and unscripted, as he was unable to hold a straight face due to Kaye's comedic dancing. Clooney said the filmmakers had a better take where Crosby didn't laugh, but when they ran them both, people liked the laughing version better.
WHERE TO WATCH: Amazon Prime | Netflix | YouTube
DIRECTOR: Maury Laws & Larry Roemer
STARRING: Burl Ives, Billie Mae Richards, Paul Soles, Larry D. Mann, Stan Francis, Alfie Scopp, Janis Orenstein, Paul Kligman, Carl Banas, Corinne Conley, and Peg Dixon
Rudolph the Red-Nosed Reindeer was always a staple in our house growing up, and when I taught English to elementary school students in Japan, Rudolph was always one of their favorite Christmas movies I'd show them—oddly enough, they also really liked the 1974 TV special 'Twas the Night Before Christmas.
In this stop-animation classic, Sam the Snowman (Ives) tells the story of a young red-nosed reindeer who, after being ousted from the reindeer games because of his beaming nose, teams up with Hermey (Soles), an elf who wants to be a dentist, and Yukon Cornelius, the prospector. They run into the Abominable Snowman and find a whole island of misfit toys.
DID YOU KNOW? In the original TV version of the show, Rudolph, Hermey the elf, and Yukon Cornelius visit the Island of Misfit Toys and promise to help them, but the Misfits are never mentioned again. After it was shown, the producers were inundated with letters from children complaining that nothing had been done to help the Misfit Toys. In response, Rankin-Bass produced a new short scene at the end of the show in which Santa and his reindeer, led by Rudolph, land on the Island and pick up all the toys to find homes for them, which has ever since been the standard version of the show run during the holidays.
WHERE TO WATCH: Amazon Prime
DIRECTOR: Bob Clark
STARRING: Peter Billingsley, Darren McGavin, Melinda Dillon, Ian Petrella, Scott Schwartz, R.D. Robb, and Zack Ward
Careful kid, you'll shoot your eye out!
Based on the humorous writings of author Jean Shepherd, this beloved holiday movie follows the wintry exploits of youngster Ralphie Parker (Billingsley), who spends most of his time dodging a bully (Ward) and dreaming of his ideal Christmas gift, a "Red Ryder air rifle." Frequently at odds with his cranky dad (McGavin) but comforted by his doting mother (Dillon), Ralphie struggles to make it to Christmas Day with his glasses and his hopes intact.
DID YOU KNOW? For the scene in which Flick's—played by Scott Schwartz—tongue sticks to the flagpole, a hidden suction tube was used to safely create the illusion that his tongue had frozen to the metal.
WHERE TO WATCH: Amazon Prime | Youtube
DIRECTOR: Chris Columbus
STARRING: Macaulay Culkin, Catherine O'Hara, Joe Pesci, Daniel Stern, John Heard, and Roberts Blossom
Growing up, my sister and I loved this movie so much, that every time we watched it, we would ask to eat macaroni and cheese for dinner. And we watched this movie a lot. And now, even as an adult, any time I make mac'n'cheese, I think of Kevin McCallister!
When bratty 8-year-old Kevin McCallister (Culkin) acts out the night before a family trip to Paris, his mother (O'Hara) makes him sleep in the attic. After the McCallisters mistakenly leave for the airport without Kevin, he awakens to an empty house and assumes his wish to have no family has come true. But his excitement sours when he realizes that two con men (Pesci, Stern) plan to rob the McCallister residence, and that he alone must protect the family home.
DID YOU KNOW? The picture Kevin finds of Buzz's girlfriend was a picture of a boy made up to look like a girl, because director Chris Columbus thought it would be too cruel to make fun of a girl like that. The boy that was used in the photo was the art director's son.
WHERE TO WATCH: Amazon Prime | Youtube
DIRECTOR: Brian Henson
STARRING: Michael Cain, Dave Goelz, Steve Whitmire, Jerry Nelson, and Frank Oz
The Muppet Christmas Carol is a fun way to share Charles Dickens' classic cautionary tale. Plus, who doesn't love the idea of Michael Cain and Kermit the Frog sharing the screen?
The Muppets perform the classic Dickens holiday tale, with Kermit the Frog playing Bob Cratchit, the put-upon clerk of stingy Ebenezer Scrooge (Caine). Other Muppets—Miss Piggy, Gonzo, Fozzie Bear and Sam the Eagle—weave in and out of the story, while Scrooge receives visits from spirits of three Christmases—past, present and future. They show him the error of his self-serving ways, but the miserable old man seems to be past any hope of redemption and happiness.
DID YOU KNOW? Before production began, Michael Caine told producer and director Brian Henson, "I'm going to play this movie like I'm working with the Royal Shakespeare Company. I will never wink, I will never do anything Muppety. I am going to play Scrooge as if it is an utterly dramatic role, and there are no puppets around me." Henson allegedly replied, "Yes, bang on!"
WHERE TO WATCH: Amazon Prime | Youtube
DIRECTOR: Henry Selick
STARRING: Danny Elfman, Chris Sarandon, Catherine O'Hara, William Hickey, Glenn Shadix, Paul Reubens, Ken Page, and Edward Ivory
Call it a Halloween movie, a Christmas movie, or a Spookmas movie, in my opinion, this stop-animation cult-favorite belongs on every list.
This film follows the misadventures of Jack Skellington, Halloweentown's beloved pumpkin king, who has become bored with the same annual routine of frightening people in the "real world." When Jack accidentally stumbles on Christmastown, all bright colors and warm spirits, he gets a new lease on life—he plots to bring Christmas under his control by kidnapping Santa Claus and taking over the role. But Jack soon discovers even the best-laid plans of mice and skeleton men can go seriously awry.
DID YOU KNOW? Tim Burton wrote a three-page poem titled "The Nightmare Before Christmas" when he was a Disney animator in the early 1980s. Burton took inspiration from television specials like Rudolph the Red-Nosed Reindeer (1964) and How the Grinch Stole Christmas! (1966), as well as the poem "A Visit from St. Nicholas." On the 15th anniversary Special Edition Blu-ray/DVD release in 2008, Christopher Lee narrated the poem with a new animated visual accompaniment.
WHERE TO WATCH: Amazon Prime | Disney+
DIRECTOR: John Pasquin
STARRING: Tim Allen, Judge Reinhold, Wendy Crewson, Eric Lloyd, David Krumholtz, and Peter Boyle
The Santa Clause was another staple in our home growing up. And if you can't get enough of Tim Allen as Old Saint Nick, there are two sequels in this franchise.
Divorced dad Scott Calvin (Allen) is distressed to learn that his ex-wife Laura (Crewson) and Charlie's psychiatrist stepfather Neal (Reinhold) have informed his son that there is no Santa Claus. While a sullen Charlie (Lloyd) visits his dad on Christmas Eve, a noise on the roof brings them outside, where Scott startles the intruder, who tumbles from the roof. It turns out that there is a Santa after all, and Scott has just accidentally killed him. Because of a legal technicality known as "the Santa clause," Scott inherits the jolly old elf's job. As the next year passes, Scott rapidly gains weight, grows a white beard and meets the elf Bernard (Krumholtz)—who is the one who really runs the North Pole—while Charlie regains his Christmas spirit. However, Neal becomes concerned about Scott's sudden change in appearance and insistence that he's Santa, and he forces him to undergo a psychiatric evaluation.
DID YOU KNOW? During his first tour of the workshop, Scott Calvin tries out a tool belt then shakes his head as if to indicate that tools aren't for him. This is a reference to Tim Allen's then-hit TV show, Home Improvement (1991) where his character's life (Tim "The Tool Man" Taylor) revolved around tools.
WHERE TO WATCH: Amazon Prime | Disney+ | Youtube
DIRECTOR: Ron Howard
STARRING: Jim Carrey, Taylor Momsen, Jeffrey Tambor, Christine Baranski, Bill Irwin, and Molly Shannon
Whether you prefer the original 1966 TV special, the 2000 live-action version, or the 2018 animated version, the story of the Grinch and how he learns to let love into his life is timeless.
In this live-action adaptation of the beloved children's tale by Dr. Seuss, the reclusive green Grinch (Carrey) decides to ruin Christmas for the cheery citizens of Whoville. Reluctantly joined by his hapless dog, Max, the Grinch comes down from his mountaintop home and sneaks into town to swipe everything holiday-related from the Whos. However, the bitter grump finds a hitch in his plans when he encounters the endearing Cindy Lou Who (Momsen).
DID YOU KNOW? According to Rick Baker, the prosthetic make-up Jim Carrey wore took about two hours to apply and one hour to remove. It is rumored that Carrey felt so confined and uncomfortable in the latex skin that he sought counseling from a CIA agent who taught him torture-resistance techniques. The Grinch costume is covered in yak hair, which was dyed green and individually sewn onto a spandex suit.
WHERE TO WATCH: Amazon Prime | Netflix | Youtube
DIRECTOR: Jon Favreau
STARRING: Will Ferrell, James Caan, Bob Newhart, Ed Asner, Mary Steenburgen, Zooey Deschanel, and Daniel Tay
Personally, I'd rather have a Buddy than your typical "Elf of the Shelf" type Santa's little helpers any day. This film is fun, funny, and just the right touch of whimsy perfect for the holiday season.
Buddy (Ferrell) was accidentally transported to the North Pole as a toddler and raised to adulthood among Santa's elves. Unable to shake the feeling that he doesn't fit in, the adult Buddy travels to New York, in full elf uniform, in search of his real father. As it happens, this is Walter Hobbs (Caan), a cynical businessman. After a DNA test proves this, Walter reluctantly attempts to start a relationship with the childlike Buddy with increasingly chaotic results.
DID YOU KNOW? On the final day of shooting in New York City, director Jon Favreau, Will Ferrell, and a camera man spent the day driving around the city looking for locations to shoot. They would jump out and ask pedestrians if they would be willing to be extras for some quick cash, while Ferrell paraded around acting like Buddy. Much of the montage when Buddy first arrives in New York City was filmed then, such as when he is getting his shoes shined and jumping between traffic.
WHERE TO WATCH: Amazon Prime | Youtube
DIRECTOR: Jonathan Levine
STARRING: Joseph Gordon-Levitt, Seth Rogen, Anthony Mackie, Lizzy Caplan, Jillian Bell, Michael Shannon, and Mindy Kaling
This bro-heavy comedy offers the saccharine antidote for everyone who is "over" the classic feel-good Christmas flick.
For the last 10 years, lifelong buddies Ethan (Gordon-Levitt), Isaac (Rogen) and Chris (Mackie) have gathered on Christmas Eve to celebrate the holidays with a bang. As Isaac prepares to become a first-time father, the friends realize that their annual tradition is coming to a sad end. To make it as memorable as possible, they plan a night of debauchery and hilarity by searching for the Nutcracka Ball, the Holy Grail of Christmas parties in New York.
DID YOU KNOW? Despite being a holiday film, portions of this movie was filmed in August. The cast said they felt really hot in the Christmas sweaters they had to wear outdoors in summer.
WHERE TO WATCH: Amazon Prime | Youtube